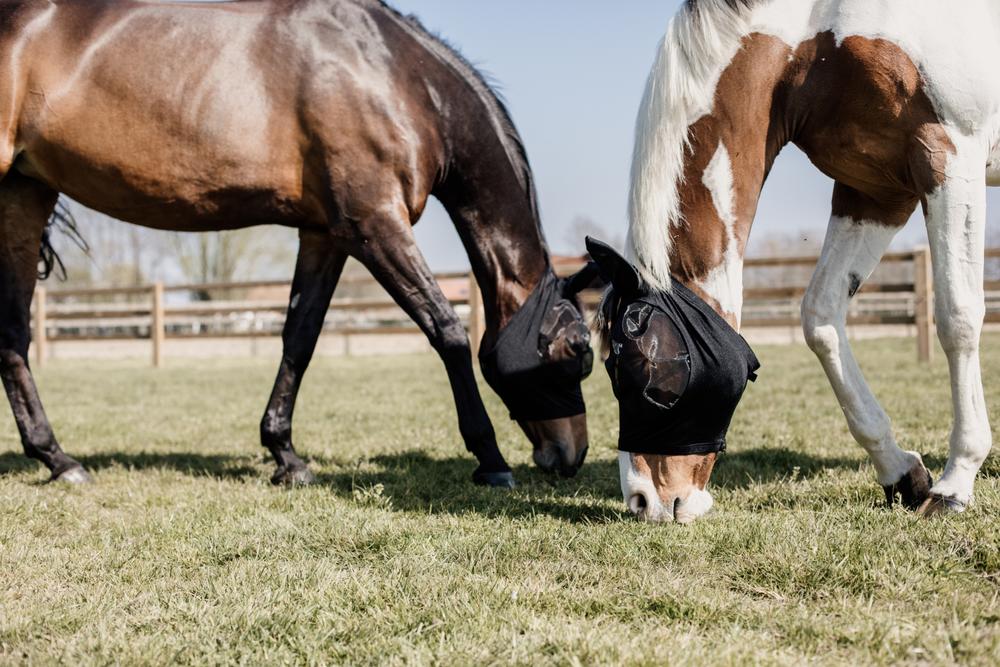 How to keep your horse cool when it's hot outside
The sun is definitely shining! We've got some tips on how to keep your horse cool on these warm days.
Water, water, water
Both horses and riders should drink a lot of water throughout the day to stay hydrated. Always take fresh water to the stables and try to keep it cool. You can use our reusable water bottle to keep your water cool on hot days. Your horse must always have access to fresh water too. On warm days a horse drinks about 40 to 60 liters a day. Just be careful with ice-cold water as this could cause colic. The ideal water temperature for a horse is about 10 to 20 degrees.
After a workout, a horse loses a lot of salts and minerals because he was sweating. During summer it's very important to make sure this is in balance. If your horse is sweating excessively because of the weather, it's a good idea to add some electrolytes to his diet. These electrolytes refill the minerals and improve the recovery after a training. Because of the extra salt, make sure that your horse drinks enough water when you're giving him extra electrolyte supplements. If he's not drinking enough, you can put some apple juice in the water for a pleasant taste.
Water is not only important as a drink but also to cool down. When it's hot outside, it's very refreshing to give your horse a cold shower. The cold water will absorb the warmth of the muscles and skin, which allows him to cool down. Start by applying water to the legs and slowly work your way up. Keep applying water till your horse feels cool to the touch. Then, let your horse dry naturally but avoid drying him in the full sun. It's not necessary to scrape the excessive water of your horse, but this does attract more dirt.
Beat the heat
During summer, you have to be smart. Create a plan so you can ride and turn out your horse on the coldest parts of the day. During midday, it's best to keep your horse stabled or in a shady environment with enough airflow.
The best times to ride are early in the morning or late in the evening. Adjust your training to a lighter work-out and use breathable materials like our 3D spacer turnout boots. These boots are very breathable and lightweight and offer perfect protection during your training. The boots are great to protect your horse's legs in the field too and could serve as fly protection. After training, you can use the cryo ice boots to cool down the legs of the horse.
If you want to put your horse in the field, you could also do this during the night. During the night, insects are often less active which makes standing in the field a lot nicer for your horse. If you put your horse outside during the morning or late at night, you can use our fly products to protect him from insects. Our anti-fly products are highly breathable and UV-resistant for the best protection.
We hope that you and your horse can find some cooling with these tips. Enjoy the sunny weather!