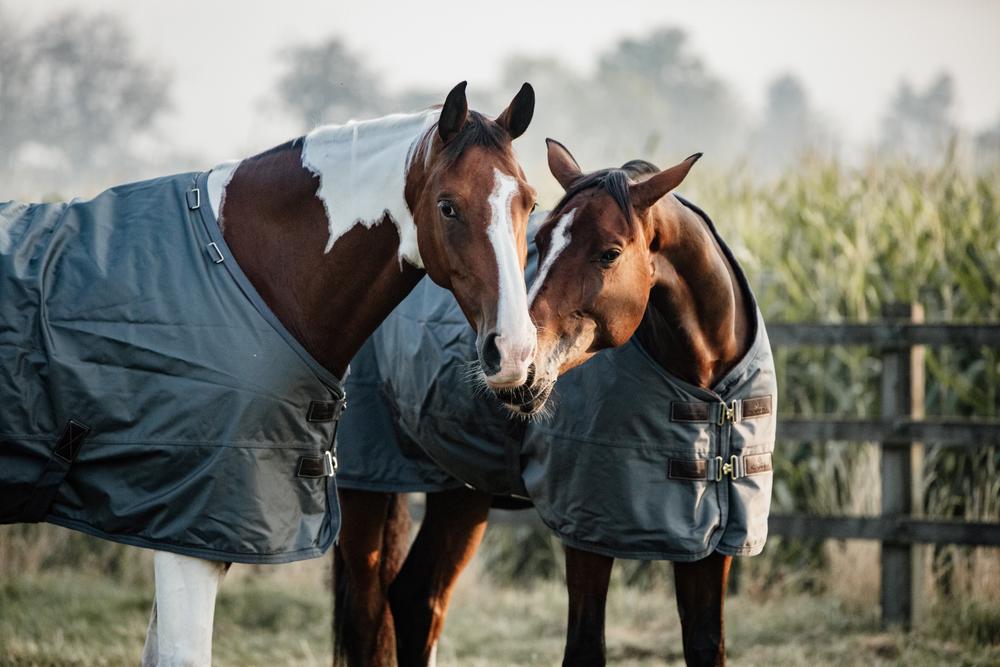 Choose your Horse Rug
Choosing the right rug is always a struggle when colder days are coming. Should you put one heavy or two thinner rugs? Should you wait for the weather to be colder or start when it is still bearable?
Of course, the choice remains yours as you are the most reliable person regarding your horse's needs. Yet, we provide you with this guideline to help you through the winter!
Filling
0, 160, 300g... What does it mean? The filling means that for every square meter of laid out filling, it will weigh X 0gams. The bigger the filling is, the more it will trap the heat, offering your horse more warmth. If you think about a cotton ball, it is really compact and doesn't let air through. But when you start to pull it apart, the air passes through easier, letting all the heat go. When choosing a rug, you should always ask yourself the filling you need first, depending on your horse's environment, habits and preferences.
Denier
You have heard of it but don't remember what it refers to. Don't worry, we will explain! Denier is a unit of measurement that is used to determine the fiber thickness of individual threads or filaments used in the creation of textiles and fabrics. Fabrics with a high denier count tend to be thick, sturdy, and durable. Fabrics with a low denier count tend to be sheer, soft, and silky. Depending on the use, we developed horse rugs with 1680 deniers high tenacity polyester, but also thinner sheets using only 600 deniers.
Stable or Outside use
Depending of your horse's habits during the winter, it is important to choose the right rug. Does he only stay in the stable or does he spend the day outside? The fabric you will choose will then be more or less water repellent or waterproof.
For the stable, you can have a look at our Stable Rug 400g or 0g, Show Rug, Fleece Rug Heavy and Fleece Rug Show Heavy. You can also look in the list below as our outside rugs can also be used in the stable.
For outside, check out the Turnout Rug All Weather 0g, 160g or 300g, to combine with the Neck All Weather 0g or 150g or with the Under Rug, Under Rug Skin Friendly or even Fake Fur Rug.
Your horse tends to get rubs on the chest or withers while wearing a rug? Try one of our Horse BIB Summer or Winter and be sure to bring him more comfort.
Waterproof vs. Water-Repellent
Speaking of, do you know the difference between these two? A waterproof item keeps water from entering into the fabric, while a water-repellent one is not easily penetrated by water. Therefore, a waterproof rug is more efficient if your horse needs to stay outside in heavy rain for several hours – and a water-repellent will have better chance of standing up to water than an average one. Moreover, waterproof is on the inside of the rug while water-repellent is on the outside. A combination of both treatments is important for winter rugs.
Transport Rug
A very specific point we face: does my horse need a rug while on the road? If so, what type of rug should I use?
Again, the choice is yours! As horses tend to move a lot during transport, you don't want to cover them with too heavy rugs. Always check your horses' temperature while travelling, for example when you stop at a gas station. It can prevent many issues later.
Our Cotton Sheet is a nice alternative for travelling, as long as the Fleece Rug and Fleece Rug Show or the Stable Rug 0g. You can also choose the Cooler Sheet Softshell or 3D Spacer Cooler Sheet, or any other sheet or rug mentioned in the "Quick Dry" section.
Riding Rug
Imagine being so comfy in your bed sheets. It is cold outside and all of a sudden, someone takes you out of here to go for a run wearing only a t-shirt. Doesn't feel nice? To avoid this feeling to your horse, especially if he is clipped, you can use a exercise rug.
We propose different types of riding rugs:
Need a rug that covers all of your horse and tack while you are waiting in the rain? The Horse Rain Coat is 100% waterproof and will become a must have for you during rainy competitions.
Quick Dry
As you don't want your beloved horse to catch a cold, sweat becomes your enemy especially during winter. A quick and easy solution is to use a special sheet after the effort to help your horse drying.
Here is a selection of our sheets and rugs made for this purpose:
The Towel Rug, the 3D Spacer Cooler Sheet, the Cooler Sheet Softshell. Also, the Cooler Fleece Rug that can be combined with the Cooler Fleece Horse Scarf are perfect for the job!
Another interesting rug to use after work or at night: the Magnetic Rug Recuptex. Based on the Bekaert BEKINOX® technology, it stimulates blood circulation and oxygen flow.
We wish your horses to be happy and warm with our Kentucky rugs this winter!