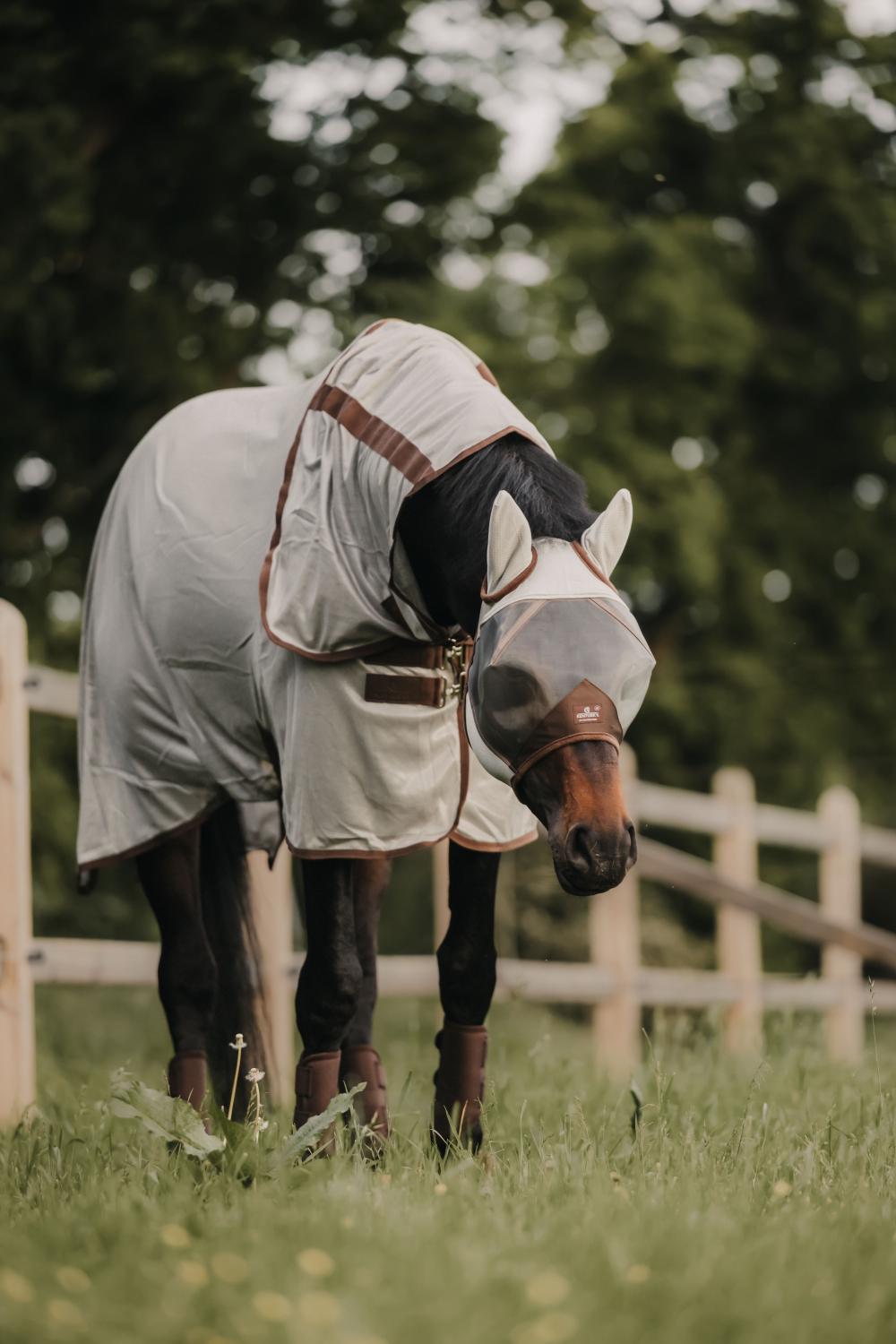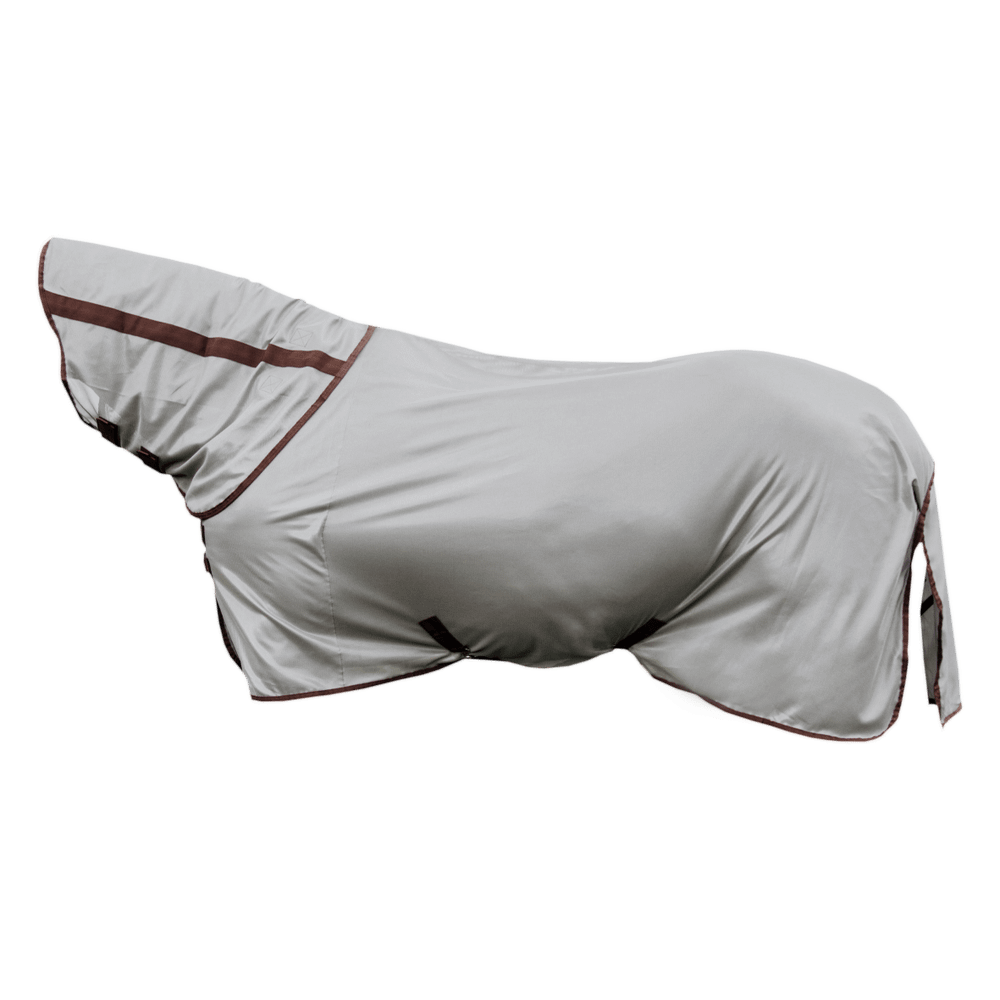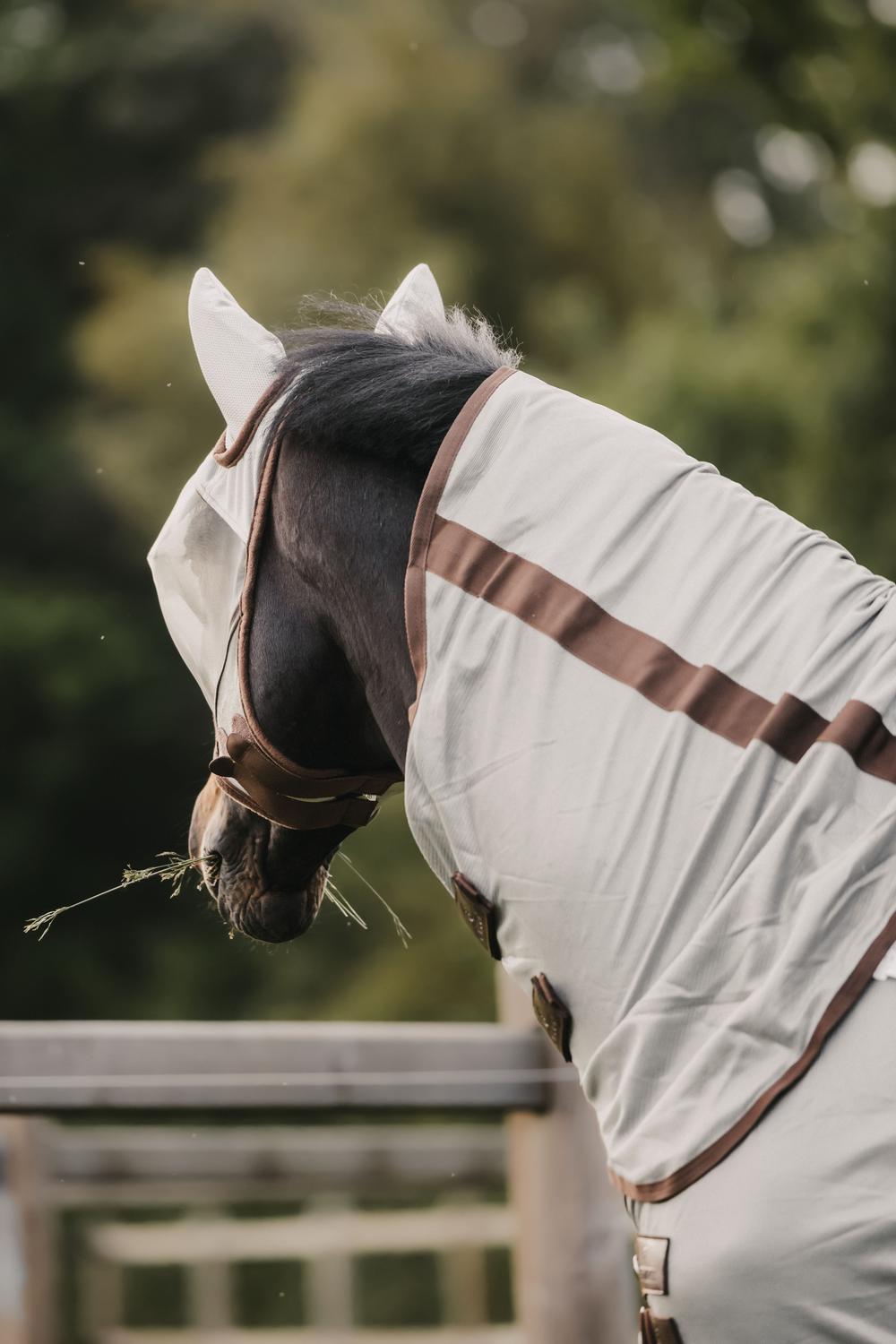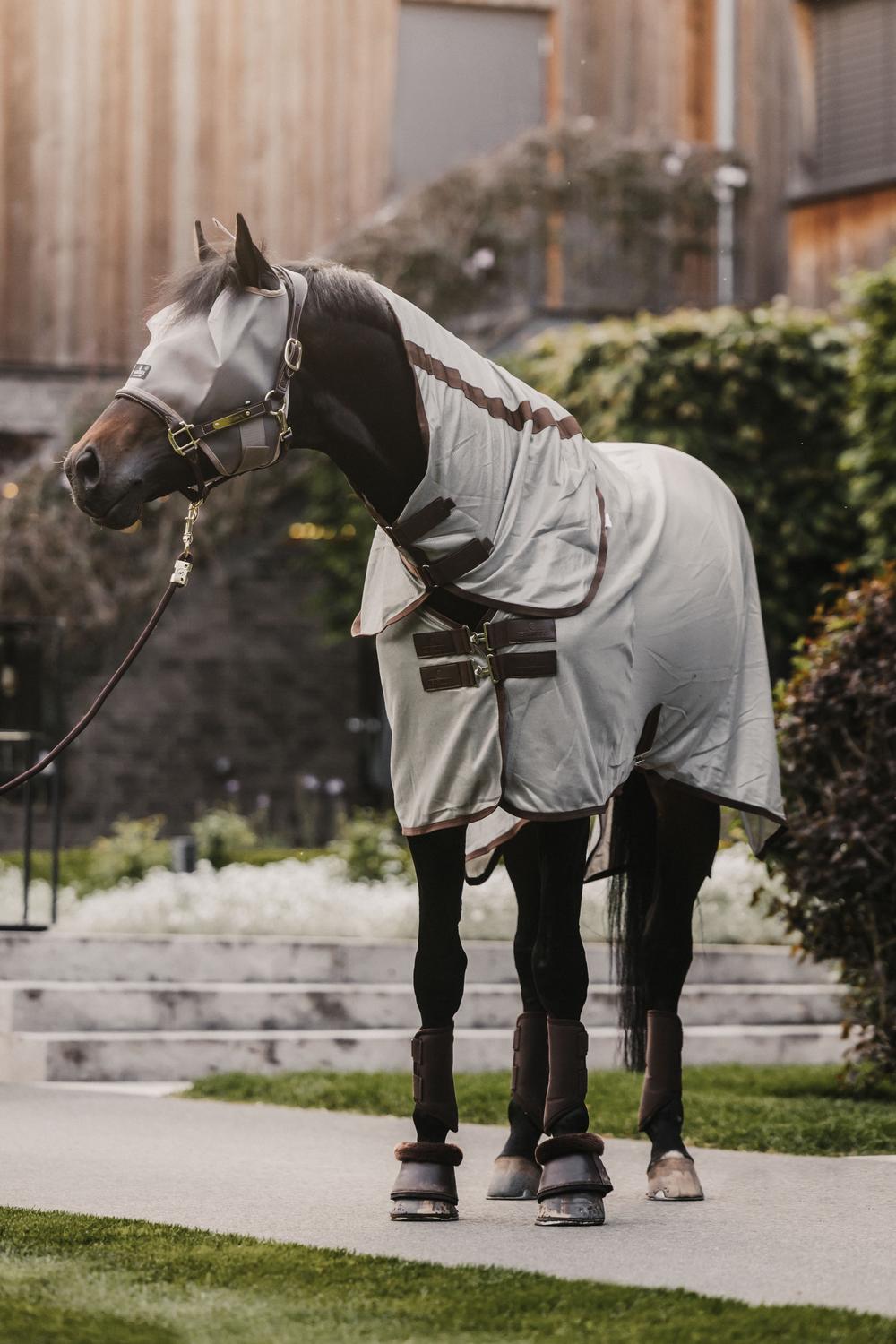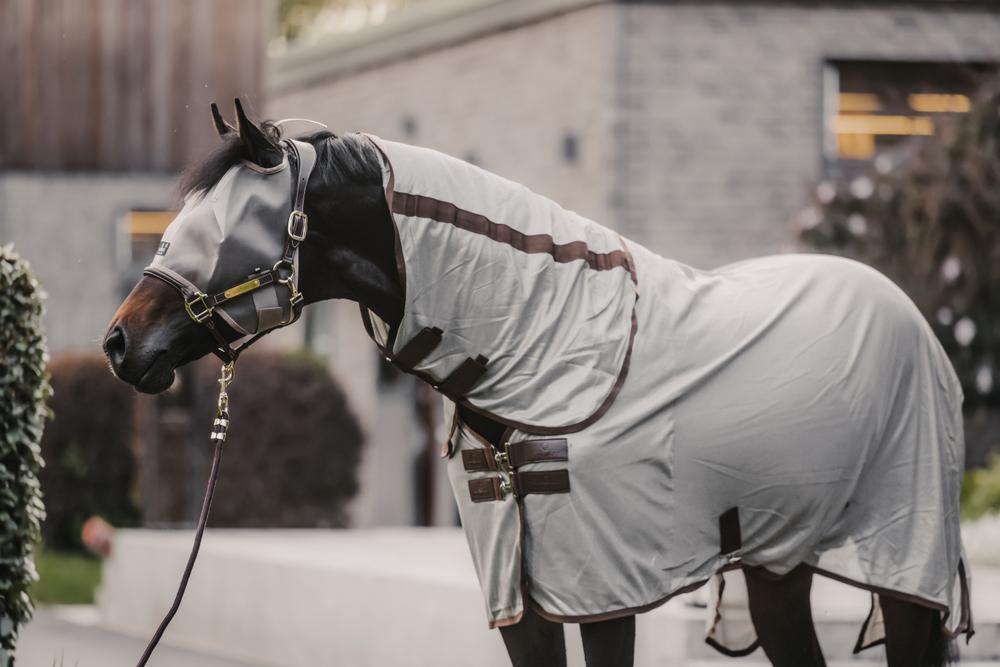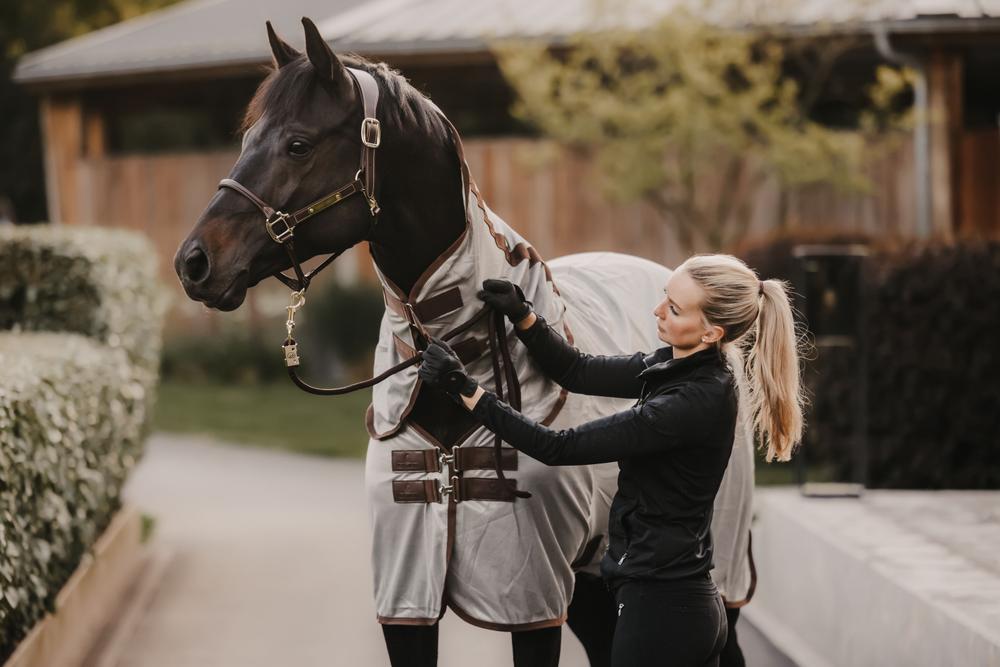 This product is currently unavailable
A must have for the summer, the Mesh Fly Rug Classic. Ultimate fly protection with ultimate comfort.
- Mesh fabric allows air permeability
- Detachable neck cover included
- Lightweight Fabric
- Long tail flap

What's special
The Mesh Fly rug Classic is a must-have for the summer with an excellent price-performance ratio. The mesh used for this classic version is very lightweight and allows the horse to be protected from flies without adding unnecessary warmth on warmer days. The light color reflects the sun and keeps your horse cool. Your horse is fully protected on the body, the beginning of the tail and on the neck thanks to the included neck piece.

Fabrics & materials
The Mesh Fly Rug Classic is made from a structured mesh fabric, which keeps most flies and insects away from the horse. The mesh is extremely lightweight and also breathable, which makes it perfect to use in the field during warmer days. On the chest area, the fabric on the inside is flat. This is has a soft feeling to prevent rubbing marks and makes sure that no hairs will stick to the rug.

Because of the light color of the rug, it will reflect the sunrays and does not absorb heat.

The mane, chest and tail area are lined with a smooth polyester to avoid rubbing.

Shape & size
The Mesh Fly Rug Classic comes in different sizes to make sure it fits all horses. The shape of the rug, rather classic, allows to adapt to all types of bodies.

This fly rug has a long tail flap and a detachable tail cord. Thanks to the tail cord, the tail stays close to the rug and offers more protection. The detachable neckpiece is reinforced with a thicker and stronger webbing, so it does not slide down the neck. Because this reinforcement is on both sides of the neck, it doesn't put pressure directly on the mane.

As the details matter, the front closures and belly surcingles are silver to perfectly match the rug.

Care guide
Machine Washable
Most of our products are machine washable at 30 degrees. However, we recommend washing it as infrequently as possible and using our protective washing bags in order to maintain quality over the long term. We also recommend using professional machines (larger capacity) to limit damage due to the drum of the normal washing machine. To dry it, simply put it outside on a sunny day. The dryer is not recommended.
Measurements

Width 140mm, Height 140mm, Length 500mm

Weight

0.25kg

Season

Spring

, Summer

Material

Mesh

Use

Outside

, Stable

Breathable

Yes

Lightweight

Yes

Fly repellent

Yes

Shavings repellent

Yes